As the global pandemic continues to elevate both business pressures and public scrutiny on every industry – from healthcare, to retail operations, to personal care services – it has also transformed American attitudes toward an often-overlooked yet critically important industry: food and agribusiness.
A new consumer intelligence survey fielded by G&S Business Communications found Americans are changing their consumption behaviors and their perceptions of the food supply chain as a direct result of the coronavirus. From food safety and quality to availability and affordability, people are thinking differently about where their food comes from and the significance of the nation's farming infrastructure.
Food Fears: Consumers Voice Concerns About Supply and Safety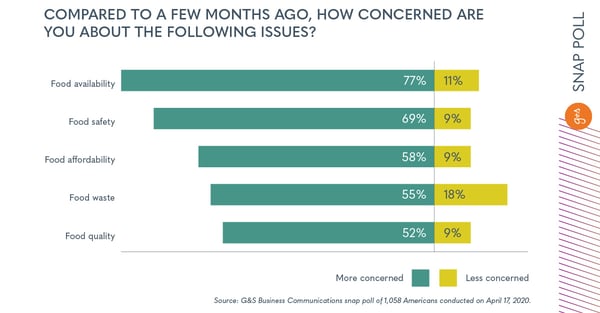 Americans say the coronavirus has raised their concerns about food safety and availability. Compared to a few months ago, a majority of Americans say they are more concerned about food availability (77%), food safety (69%), food affordability (58%), food waste (55%) and food quality (52%). Moreover, these concerns are directly rooted in the COVID-19 pandemic: Over half (54%) of Americans say they are at least somewhat concerned about contracting the coronavirus through the food they eat, while nearly two thirds (66%) are at least somewhat concerned about contracting the disease through food packaging.
Get the latest industry news and insights delivered to your inbox when you subscribe to our newsletter.
Consumers are taking extraordinary measures to clean or otherwise ensure the safety of their food. Forty-seven percent of Americans say they are spending more time washing their produce when they return home from the grocery store, and 24% say they are washing with a disinfectant. Meanwhile, 44% say they are cleaning food packaging with a disinfectant.

Coronavirus fears have driven consumers to change their food purchasing behaviors. Nearly a third of consumers (31%) are making changes to where they purchase food and groceries. While only 19% say they are avoiding specific foods due to fears of contamination, open-ended responses indicate that fresh foods, deli products, meats and even prepared foods have begun to give buyers pause, particularly if imported. A quarter of Americans (24%) say the pandemic has influenced them to think more often about where their food comes from, with 12% saying they are seeking answers through their own research.


Americans are concerned about a reliable food supply. With over three quarters of Americans saying they are more concerned about food availability during the coronavirus, and 58% more concerned about affordability compared with a few months ago, nearly two thirds (63%) of consumers say they are concerned about grocery stores and restaurants running out of food.
Farmers in Focus: Americans Recognize a Critical Link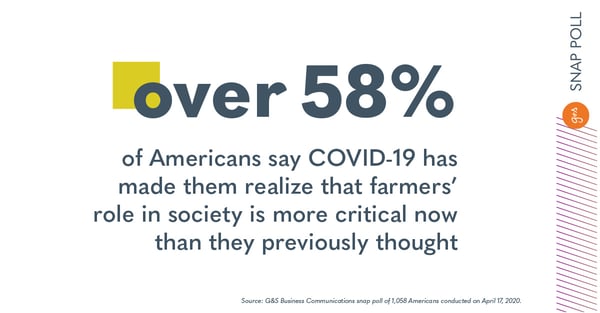 Americans are becoming more aware of the role of farmers in their food supply and society. Over half (58%) agree that the coronavirus crisis has made them realize that farmers' role in society is more critical now than they thought it was a year ago.


Consumers feel that farmers have a responsibility to publicly share their response in a pandemic. Nearly half (45%) of Americans agree that farms and ranches should communicate to the consumer public what steps they are taking at the source to keep our food supply safe.
Communicating Along the Supply Chain: What Consumers Want to Know
People and organizations across the food supply chain should share responsibility for communicating response measures to the public. Americans say stakeholders across the food industry should proactively communicate the actions they are taking to secure a safe and quality supply, including grocery stores (83%), restaurants (75%), food processing facilities (68%), food packaging companies (66%), food shipping companies (56%), and farms and ranches (45%). It's clear that people are seeking information beyond simply the consumer-facing portion of the supply chain, indicating a growing awareness of the journey their food takes from farm to fork.


Consumers also crave information from companies about the safety measures they are taking to protect their employees and customers. Nearly all (95%) Americans agree that it is at least somewhat important for all types of companies to communicate to the public about the safety measures they are taking to protect employees, with nearly half (42%) saying this is extremely important. Similarly, 95% of Americans agree that it is at least somewhat important for companies to communicate the safety measures they are taking to ensure customer safety as well. Close to half (48%) feel that public communications about customer safety are extremely important.


Americans would feel reassured by knowing what safety protocols have been enacted. Nearly three quarters (74%) would feel reassured knowing about safety protocols at grocery stores. Further upstream, consumers say they would feel reassured about food safety if they learned about safety protocols put in place at food processing plants (70%), food transport and storage (57%) and on farms (41%). A majority (65%) of Americans say that research indicating food and packaging are unlikely to spread the coronavirus would also prove reassuring.
Research Methodology

This G&S snap poll was fielded on April 17, 2020, with a representative U.S. sample of 1,058 adults, ages 18+. The sample has been balanced for age and gender using the Census Bureau's American Community Survey to reflect the demographic composition of the United States.
For more of the latest news, insights, trends and perspectives, subscribe to our newsletter.
G&S Business Communications is the #1 PR agency for agriculture as ranked by O'Dwyers.
This blog post is the first in a series about agriculture and the COVID-19 crisis.
Food and Farmer: How the Pandemic Changed American Viewpoints