We all know that, unfortunately, perception is reality for many people. Preserving your corporate reputation is critical, with both employees and customers, especially in times of crisis.
In response to our recent Consumer Intelligence Snap Poll, 46% of Americans say their perception of a company would not change if one of its employees had coronavirus, but 72% would have a more negative perception of a company if it did not disclose to the public that an employee has coronavirus.
Sentiments expressed by our poll participants validate the need to communicate early and often with employees. Results also confirms that disclosing information that could compromise employee safety is important to maintaining employee trust in the organization.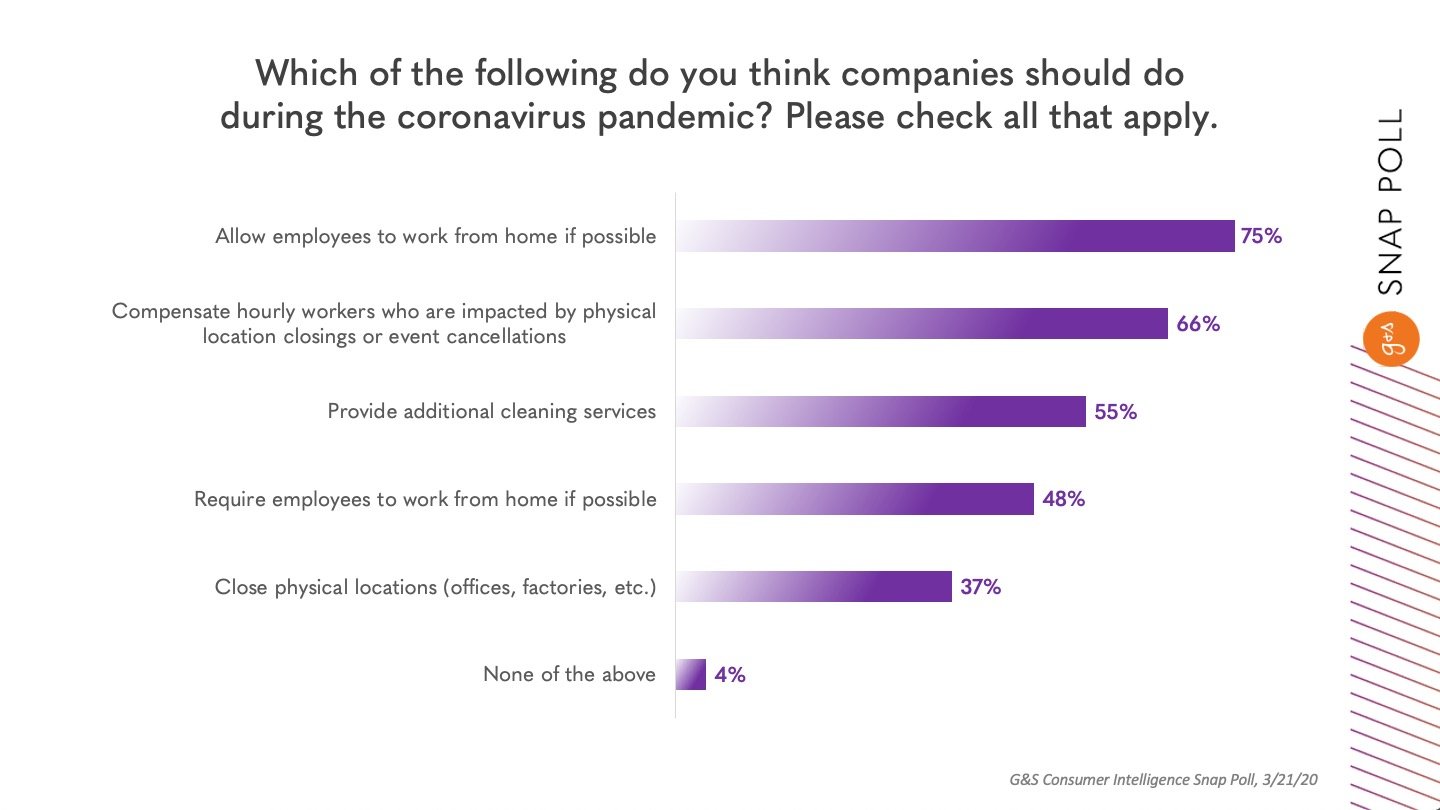 If your company finds itself in the position of having an employee test positive for COVID-19, the Centers for Disease Control and Prevention (CDC) recommends that the employer inform fellow employees of their possible exposure to COVID-19 in the workplace. Make sure to maintain confidentiality as required by the Americans with Disabilities Act (ADA).
Here is a checklist to ensure you are communicating effectively and appropriately:
Encourage the employee to follow home isolation precautions and remain in isolation until risk of secondary transmission to others is low. The CDC offers guidance on specific measures an infected individual should take to reduce risk of transmission to others. The decision to discontinue home isolation precautions should be made on a case-by-case basis, in consultation with healthcare providers and state and local health departments.


Ask the employee that tested positive to identify all coworkers that he/she may have encountered at least 14 days prior to when infection was confirmed. This will help you identify all fellow employees who should be encouraged to get tested and/or self-quarantine.


Ask the employee to identify which areas within the building he/she frequented at least 14 days prior to testing positive. This will help you in identifying what areas should be professionally cleaned and sanitized.


Contact the coworkers identified by the infected employee and inform them that a fellow employee has tested positive for COVID-19. Do not share the name of the employee or provide clues as to who he/she could be.


Encourage everyone to contact management or Human Resources with questions or concerns. Prepare those that may receive questions from employees with talking points to ensure consistency of message.


Consider whether to shut the office down for fourteen days and allow employees to work from home. For some employers, especially in the healthcare industry, this may not be an option.


Remind employees that discrimination or harassment against individuals that are suspected to have tested positive for, or been exposed to, coronavirus, is strictly prohibited. It is important to protect the privacy and confidentiality of all employees.


Update the public as appropriate. Know who your key stakeholders are and who should be informed to protect their safety as well.
For new updates and other resources, please visit www.gscommunications.com/coronavirus, and do not hesitate to contact us with further inquiries. We know the uncertainty brings significant business risks, and we're here to help.
Contact the COVID-19 Rapid Response Task Force