Virtual doctors' visits. Check-ups over video chat. More than three quarters of U.S. hospitals boast video and teleconferencing capabilities, a service that has rapidly become a necessity during the global pandemic.
However, a new survey conducted by Opinium on behalf of G&S Business Communications found that as many as 82% of Americans do not think telehealth is currently available to them. Without knowledge of this resource, patients are more likely to put themselves at risk by traveling to a healthcare facility or, worse yet, to skip care entirely.
As we all play a key part in flattening the curve, there is no question that telehealth can help us adhere to social distancing guidelines while offering broader access to care, protection for patients and healthcare workers, and a welcome solution amid overbooked hospitals. With hospital providers on the front line of treating patients with COVID-19, other healthcare practitioners and their patients can do their part to stop the spread of the virus and ensure continuity of care – and business – by relying on telehealth resources.
Misconceptions Among Americans about Telehealth as a Care Option
While knowledge of access to telehealth is alarmingly low, interest in tapping into these services only grows stronger. Our recent online survey, conducted between March 20 and 25, found that 2 in 5 Americans are more likely to use telehealth solutions due to the coronavirus. As hospitals increasingly devote their facilities to serving COVID-19 patients, people are delaying non-essential care – something that has 76% of Americans concerned. Now more than ever, healthcare leaders must collaborate to offer, communicate and reinforce telehealth services to the public.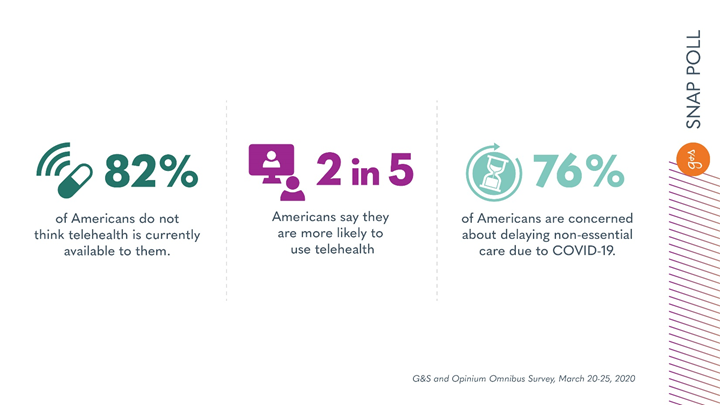 Telehealth Can Expand Cost-Efficient, Routine Care
Beyond addressing the challenges of COVID-19, telehealth can bring welcome improvements to our healthcare system, including easier and expanded access for patients, while enabling cost-effective and time-efficient care for the industry. For instance, providers can expand the size of their practice and potentially reduce the need for more extensive and costly care down the road by upholding early-intervention and/or preventative measures.
Our work with LocumTenens.com, a healthcare staffing agency whose telehealth division pairs top clinicians with excellent tele-resources to treat patients, has shown us firsthand the impact of COVID-19 on telehealth solutions. LocumTenens telehealth director Pamela Ograbisz, DNP, FNP-BC, shared with Healthline how COVID-19 has broken down barriers in telehealth and brought forward a massive influx in demand from providers seeking to maintain continuity of care and of business amidst the crisis.
"In a way, COVID-19 leveled the playing field in healthcare by erasing the boundaries between rural areas and large cities. It doesn't matter where patients are located; they need care," she said. "Because of this, and because clinicians are overwhelmed, demand for telehealth has gone up across the board."
Get the latest healthcare news and insights delivered to your inbox when you subscribe to our newsletter.
Payers Must Better Communicate Telehealth Offering
Most insurance plans already include a telehealth component. According to an analysis from Foley & Lardner, 42 states and the District of Columbia maintain a telehealth commercial payer statute, as of October 2019. Yet there remains a communications gap between what payers offer and what their members access. In fact, our survey revealed that 68% of Americans would consider telehealth for counseling services during the time of the coronavirus – but more than half of those respondents would consider it only if insurance covered enough of the cost.
Payers, take note: If you offer telehealth as a service, get your members on board. During a crisis situation, there is no such thing as overcommunication for critical services. Make it crystal clear what telehealth services you cover and how members can access them, including instructions for booking a remote appointment, in-network provider options, and technology set-up.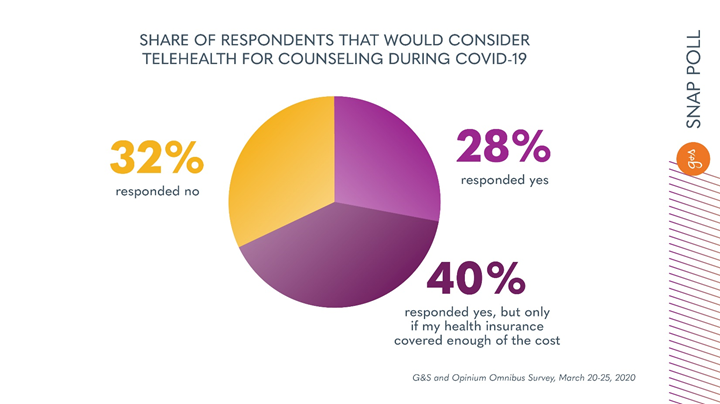 Employers Should Reinforce Telehealth Services
Kate Threewitts, managing director and head of human resources at G&S, notes that employers should "communicate early and often" during the COVID-19 crisis. Make sure your employees know what telehealth options are available to them through their benefits package. Knowing what's covered can empower patients to make decisions in line with their own health and the public health situation as it evolves.
Providers Need to Adopt Virtual Care – and Quickly
Some providers stand at the cutting-edge of telemedicine, while others lag behind. As the pandemic has shifted us into a digital world, it has become strikingly clear that providers must continue to deliver as much care as possible virtually. Routine and non-essential check-ups that can be conducted remotely should be. Moreover, in response to COVID-19, regulators have loosened existing privacy and payment policies that previously may have hindered these offerings. These regulatory shifts have, in turn, allowed providers to enact these capabilities at record speed, particularly for high-risk patients like senior citizens. In fact, Medicare has begun to support telehealth services at the same rate as in-person visits for beneficiaries across the country.
Combating COVID-19 is, and should be, the number one priority for the healthcare industry. While the crisis takes precedence, however, it does not remove the need for ongoing medical care. During a time of social distancing, isolation and remote work, ramping up your telehealth options might be the healthiest option there is – for patients, physicians, providers, and payers.
Research Methodology
The survey was conducted by Opinium on behalf of G&S Business Communications. Opinium surveyed a nationally representative sample of 2,006 U.S. adults aged 18+ between March 20th and 25th. The survey was conducted online.
For more of the latest news, insights, trends and perspectives, subscribe to our newsletter.