In recent days and weeks, we've seen countless communications from the World Health Organization, from national and state governments, and even from Reddit cofounder Alexis Ohanian extolling the virtues of hand-washing and reminding us to stay home. Despite all of this, 33% of employed Americans say they'd still go to work – even if they felt sick.
G&S conducted a Consumer Intelligence Snap Poll over the weekend to help clients navigate communications during the COVID-19 crisis. The survey of over 1,000 Americans aged 18 and older revealed that employees nationwide are split on the response from their company leaders and the news they want to hear during these trying times. But there is also a clear need to reinforce that the responsibility goes both ways.
Key statistics from the Consumer Intelligence Snap Poll: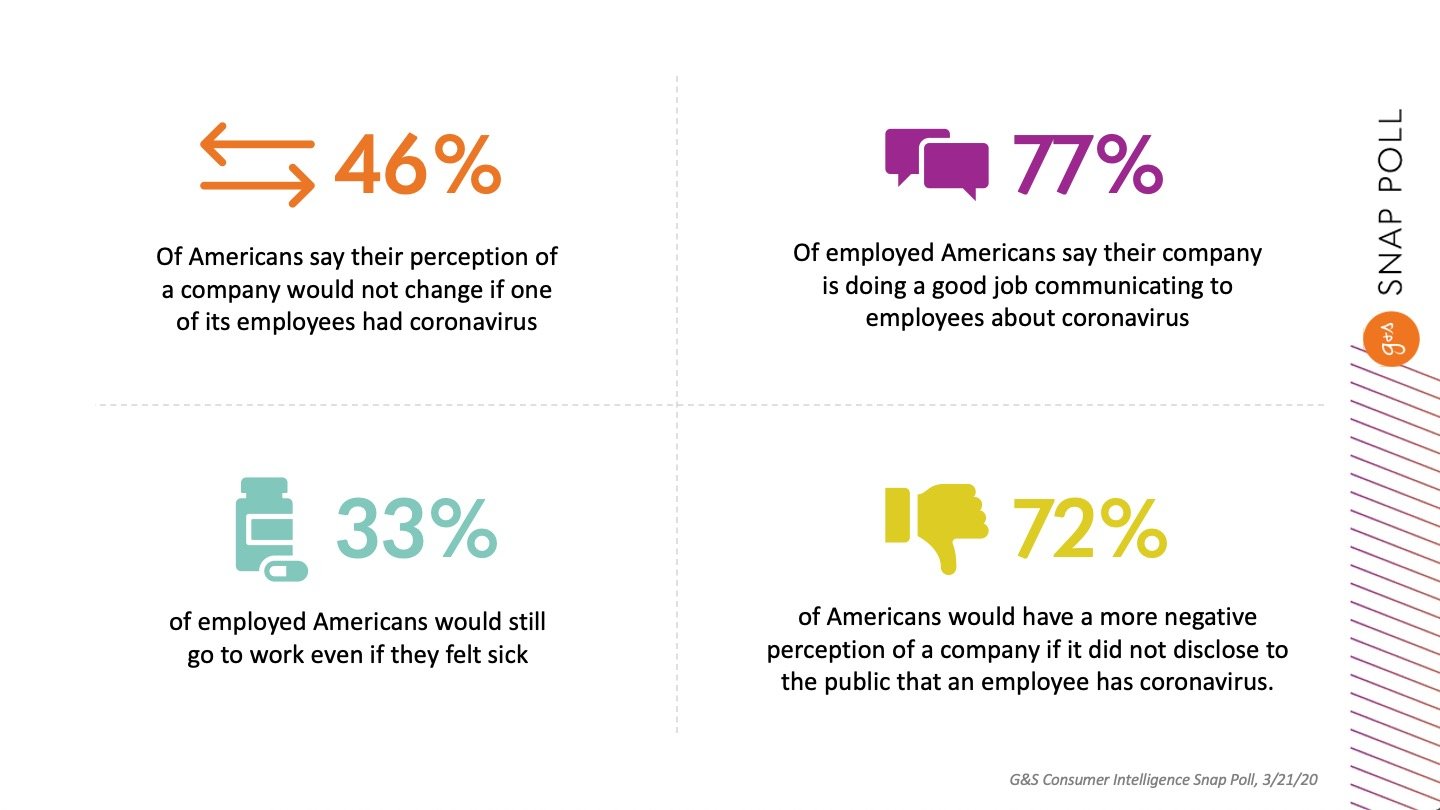 Americans are concerned about coronavirus. About three-quarters (76%) of Americans say they are very or somewhat concerned about coronavirus impacting the health of them or their family. Only 6% say they are not at all concerned.


Americans expect a lot from companies during a pandemic, including allowing employees to work from home, sharing coronavirus policies and even shutting down operations. Most say they are satisfied with how corporations are responding to the outbreak. Three-quarters of Americans (75%) think companies should allow employees to work from home if possible during the coronavirus pandemic. Many say their perceptions of a company would become more positive if it shared its coronavirus policies with the general public (71%) or shut down operations (63%). On a positive note, nearly three-quarters of Americans (74%) say they are satisfied with major corporations' responses to the outbreak.




A third (33%) of employed Americans would still go to work even if they felt sick.


Many Americans say their perception of a company would not change if an employee was sick, but they do expect companies to be transparent in communications. Forty-six percent of Americans say their perception of a company would not change if one of its employees had coronavirus. However, 72% of Americans would have a more negative perception of a company if it did not disclose to the public that an employee has coronavirus.

What to Do if an Employee Tests Positive for COVID-19


Some companies are communicating with employees more often than others, but most employed Americans are satisfied with the level of communications they are currently receiving from their employer. Among Americans who are employed, over half (55%) say their company's leaders have communicated with employees about coronavirus policies on at least a daily basis in the last week. Seventy-seven percent of employed Americans say their company is doing a good job communicating to employees about coronavirus. Forty percent of employed Americans say they are very satisfied with the communication they've received from their company about coronavirus.

However, there are still employed Americans who are not satisfied with communications from their company. Nine percent of employees say their company leaders haven't communicated at all about company policy on coronavirus, and 12% say they have only received one communication in the last week. Nearly a quarter (23%) disagree that their company is doing a good job communicating to employees about coronavirus, and nearly the same percentage (22%) say they are dissatisfied with the communication they've received from their company.
Americans are getting their information from other people, web sources and government content. Social media is also among the top sources, especially for young Americans. Just over half of Americans say they are currently staying informed about coronavirus through friends or family (51%). Web searches (50%), content published by government sources (49%) and social media (40%) are also top information sources. Younger Americans are more likely to say they use social media to keep informed about coronavirus than other generations (52% of 18-29 year old, 34% of 30-44 year old, 35% 45-60 year olds, and 18% of 60+).

Do's and Don'ts: Navigating a Crisis on Social Media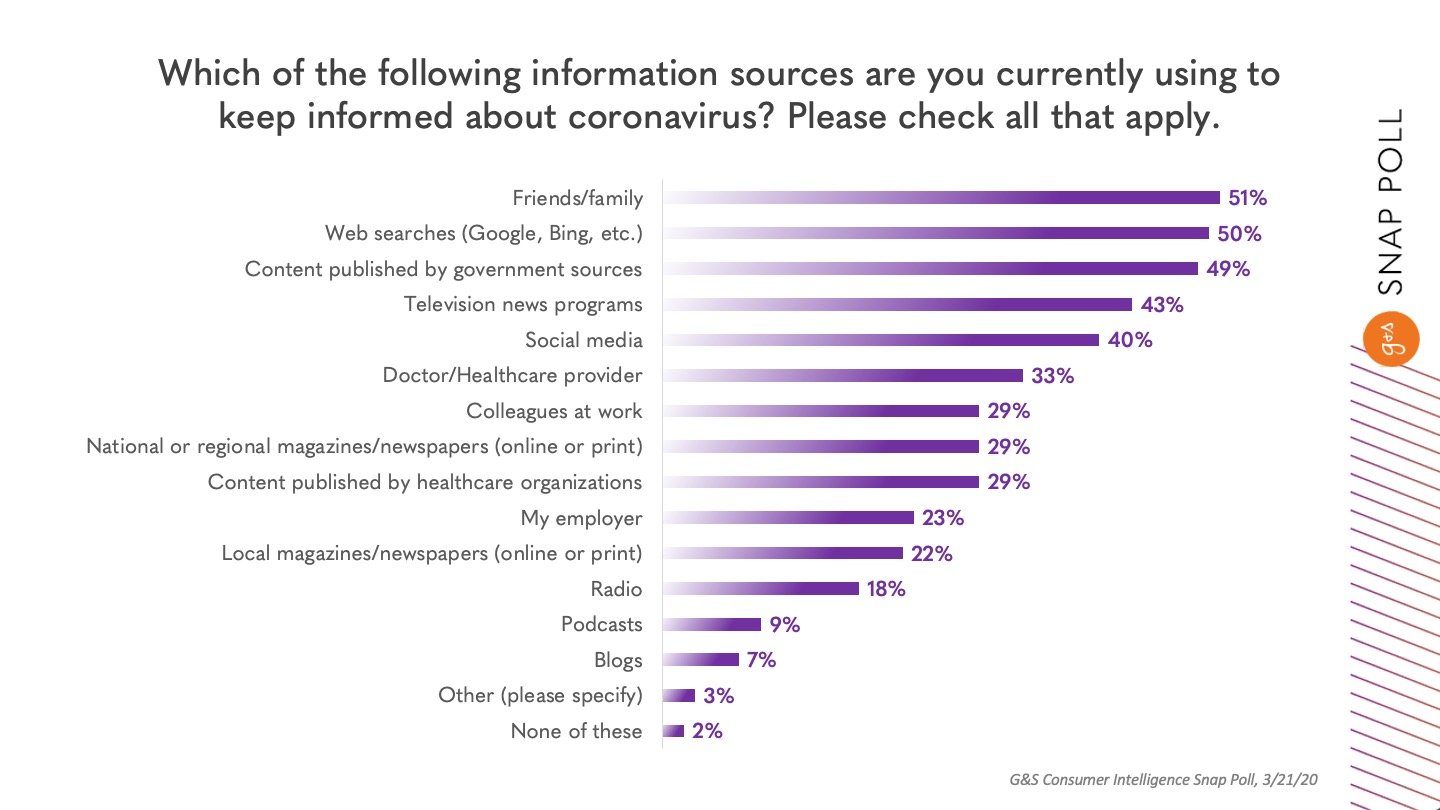 Takeaways for business leaders facing these challenges:
Communicate early and often, especially to employees. Even when the circumstances are beyond your control – perhaps especially so – it's important to show your employees, customers and other stakeholders your plans for business continuity and management of risks.


Make employees feel cared for, supported, and connected to the company. When your workforce becomes primarily remotely-based, it's important to set measures in place to maintain a sense of productivity, community, and support. Plan for interruptions in childcare and flexible hours to accommodate these changes.


Keep in mind that being transparent and authentic is more significant than ever as the landscape continues to change. As new information emerges, remaining agile in communicating business planning to your employees and customers is paramount. Formulate plans to adapt to changes with as few interruptions as possible, and avoid adding to the uncertainty by communicating your responses in a timely manner.
How to Navigate Real and Perceived Business Risks in Uncertain Times
The impact of COVID-19 on businesses is being felt globally, as government and health officials are rapidly working to address the needs of the public. During this uncertain time, the way leaders communicate with employees, customers, partners, investors and community members is paramount, as they rely on fact-based information they receive to understand the context surrounding a developing situation and to make decisions about what they should do in response.
We continue to counsel our clients on their business communications strategies, relying on insights like these to inform our counsel, understand where employees are getting their information and monitor how they feel about COVID-19 communications so far.
For new updates and other resources, please visit www.gscommunications.com/coronavirus, and do not hesitate to contact us with further inquiries. We know the uncertainty brings significant business risks, and we're here to help.
Methodology
This G&S Snap Poll was fielded March 14-15th, 2020, with a representative U.S. sample of 1,009 adults, ages 18+. The sample has been balanced for age and gender using the Census Bureau's American Community Survey to reflect the demographic composition of the United States.
Contact the COVID-19 Rapid Response Task Force